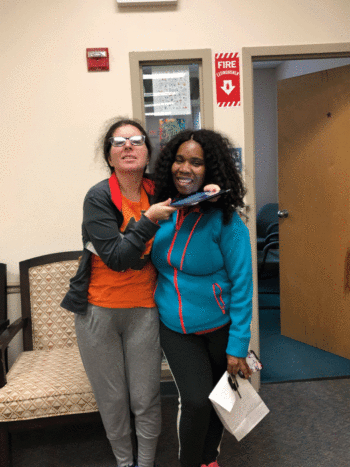 A Family's Perspective
My name is Jacob Schuman and I am writing to tell you about my sister Sarah, who lives in a Community living arrangement through SPIN. I want you to know how important SPIN is to Sarah and my family. Due to Sarah's disability, her life depends on the care she receives from SPIN's Direct Support Professionals (DSPs). Sarah could not be safely or humanely cared for outside her community living arrangement. Her DSPs should be considered essential workers, because the services they provide for my sister are a form of healthcare. Without sufficient funding for SPIN, I simply do not know what would happen to Sarah.
Sarah is a sweet and funny 31-year-old woman. She loves listening to Taylor Swift, looking at wedding magazines, and eating pasta. She is also intellectually disabled, and suffers from frequent seizures and migraines. Without 24/7 help, she could not do the basic tasks necessary to take care of herself – put on clothes, make food, wash, or take her medicine. It is no exaggeration to say that without her DSPs, Sarah would be unable to survive. She is especially dependent on her DSPs when she has seizures or migraines, which cause her to vomit for hours and incapacitate her for days. At those moments, the care her DSPs provide is a matter of life and death.
Sarah's community living arrangement is essential to her health and happiness. She bonds to her staff, so it is important to her psychological wellbeing that she have a consistent and qualified team of DSPs who she can learn to know and trust. Given how much time Sarah spends with her DSPs and the sensitive aspects of her life they help with, nurturing this feeling of security and connection is critical. I have been very impressed with Sarah's DSPs, who clearly care about her and take pride in the services they provide. When I talk to Sarah on the phone or visit her house, I am moved by how gentle the DSPs are with her, and how attached to them she has become. She knows all her DSPs' names, and tells them she loves them when they change shifts. Sarah's DSPs not only provide her with the physical necessities of life, but also the companionship and emotional connection that every person needs to have a meaningful existence.
What would Sarah do without SPIN? She depends completely on her DSPs. Caring for her is expensive, and few families can afford to support a disabled adult for a lifetime. Especially as my parents get older and my work obligations take me away from the Philadelphia area, SPIN is the only way to provide Sarah with the independence, joy, and dignity she deserves. I am convinced that there is no other way to care for Sarah in a safe or humane manner.
Last November, we asked Sarah if she wanted to celebrate Thanksgiving at my parent's house. Instead, she said she wanted to stay at her SPIN home. So, we brought turkey (and pasta) to her collaborative living arrangement, and had a small family dinner with Sarah, her roommate, and her DSPs. Sitting together, I felt so grateful for the care SPIN provides my sister, the grace and kindness of her DSPs, and the financial support of the community for these important services. Please continue to support and protect Sarah by funding SPIN and recognizing her DSPs as essential workers. Her life and my family depend on it. Thank you.