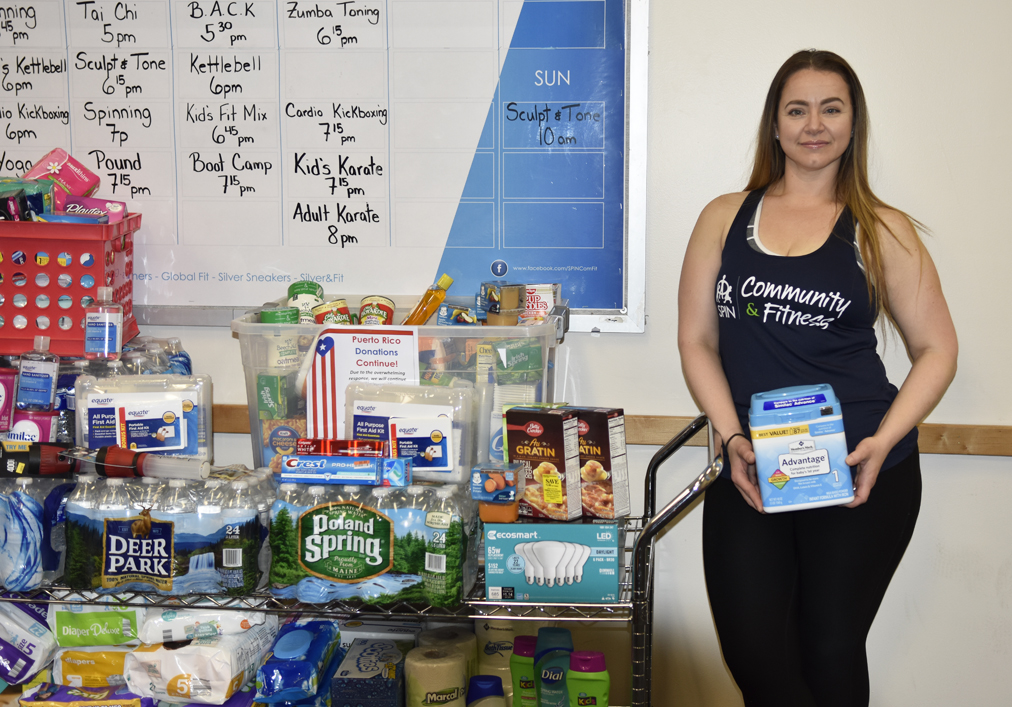 SPIN Fitness Members Unite for Puerto Rico Relief
In the wake of Hurricane Maria, more than 200 members of SPIN Community & Fitness donated supplies for Puerto Rican families.
PHILADELPHIA, PA (November 6, 2017)—After Hurricane Maria ravaged Puerto Rico, Normandy resident Diana Ortiz waited three long weeks to hear from her family on the island. Houses were ripped apart in their small city of Yauco and many are still without running water and basic necessities. Ortiz turned to her "second family" for support: people who take her weekly spinning class at SPIN Community & Fitness on Norcom Road.
Ortiz offered a free class to members of the community center, encouraging them to donate critical items. "I know mothers who lost everything in the storm," she said. "While everyone's first urge is to donate food, I knew as a mother myself that the hardest thing to find is baby food and feminine hygiene products."
What started out as a simple idea ballooned into a week-long community effort: 15 fitness instructors taught free classes while more than 200 children, adults and seniors donated much-needed supplies. "I was astounded by the generosity of our members," said Maureen Geiss, who oversees center operations. "Many of our senior members on fixed incomes donated cases of baby formula, which cost more than $15 per container!"
Natasha Nuñez, an employee of SPIN (Special People in Northeast), the larger disability non-profit that manages the center, has family on the island and was moved by the outpouring of support. "The devastation in Puerto Rico has brought so much sadness to me and my family. Seeing this organization help brings me to tears of happiness—one more reason why I think of SPIN as my second home."
Donations were transported by the Latino Partnership Initiative as part of Unidos Pa' PR, a Philadelphia-based coalition of community organizations, community leaders and advocates drawing attention and resources to the crisis in Puerto Rico.
About SPIN Community & Fitness
Located at 10980 Norcom Road, Philadelphia, PA 19154, SPIN Community & Fitness is a gathering place for family, fitness and fun. Welcoming children and adults of all abilities, the center is operated by SPIN, a local 501(c)(3) non-profit, and embraces its "Life of Possibilities" mission by offering physical, recreational, arts and educational activities to shape healthy and meaningful lifestyles. At SPIN Community & Fitness, friendships are made and barriers are broken as the people who gather celebrate life and feel at home. For more information, please visit www.spincomfit.org  or www.facebook.com/SPINComFit .
About SPIN
A local 501(c)(3) non-profit, SPIN (Special People in Northeast) is a leading provider of supports for children and adults with autism, intellectual and developmental disability in Greater Philadelphia and the Lehigh Valley. SPIN also provides high-quality, early childhood education for children of all abilities. Headquartered in Northeast Philadelphia, SPIN has been named a Top Workplace for eight consecutive years by Philly.com. SPIN has also been named an Autism Center for Excellence by Community Behavioral Health. For more information, visit www.spininc.org or www.facebook.com/SPINInc .
Media Contact:
Adam Hymans, SPIN
215.796.7759 (m)