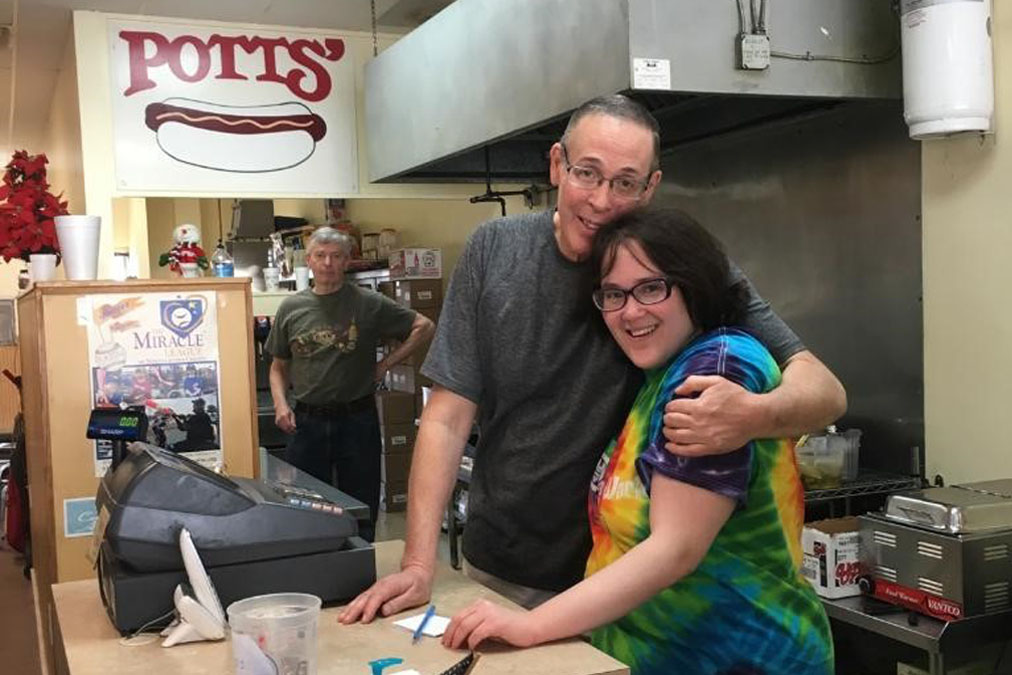 Northampton's Potts Doggie Shop Receives Community Employer of the Year Award
Owners Mark & Bobby Mazziotta Recognized As Model Employers
By PAR (Pennsylvania Advocacy & Resources for Autism and Intellectual Disability)
NORTHAMPTON, PA (October 23, 2017) – Potts Doggie Shop and its owners Mark and Bobby Mazziotta of Northampton, PA, have been awarded a prestigious award by PAR, the Commonwealth of Pennsylvania's leading disability provider and advocacy association for people with autism and intellectual disability. The Mazziottas received their award at the PAR Annual Solutions Conference "We Are Worth It." Awards Ceremony, on October 23, 2017, in Harrisburg, PA., at the Harrisburg Hilton Hotel.
Nominated by SPIN Inc., owner Mark Mazziotta was cited for his efforts in assisting Amber, an employee with a disability, in her efforts to be a successful member of the Potts Doggie Shop crew. Through effective mentoring by Mark, Amber enjoys her job, performs successfully, is held to the same performance standards as other employees and is eager and able to accept new job responsibilities and challenges as they arise.
PAR President and CEO Shirley Walker commended the Mazziottas and Potts Doggie Shop for their responsiveness and enthusiasm in employing and training Amber to be a successful employee, saying: "Small businesses like Potts Doggie Shop, and smart owners like the Mazziottas, are true leaders in business, demonstrating that people with an intellectual disability or autism are valuable and effective employees when given a chance. We hope to see other businesses follow the lead of the Mazziottas and hire more individuals with autism or intellectual disability who are eager to work in their communities."
Walker presented Potts Doggie Shop with the Northeast Pennsylvania Community Employer of the Year at the PAR Annual Conference on October 23, 2017, in Harrisburg, Pa, before several hundred providers, family members and disability advocates.
Potts Doggie Shop is located at 2428 Cherryville Road in Northampton, Pa, and is open Monday through Saturday, with Amber waiting on tables in the front of the store, or working beside Mark on most Mondays.
The Harrisburg-based PAR is committed to ensuring, strengthening and promoting the viability of community-based providers to support people with autism or intellectual disability and their families.
About PAR:
PAR ( Pennsylvania Advocacy and Resources for Autism and Intellectual Disabilities) is a nonprofit organization that represents home and community-based service providers in Pennsylvania. PAR members provide services and supports to tens of thousands of individuals in Pennsylvania with autism and/or intellectual disability. PAR's mission is to strengthen the capacity of its membership to provide person-centered services to Pennsylvanians with intellectual disability and/or autism.
About SPIN, Inc.:
A local 501(c)(3) non-profit, SPIN (Special People in Northeast) is a leading provider of supports for children and adults with autism, intellectual and developmental disability in Greater Philadelphia and the Lehigh Valley. SPIN also provides high-quality, early childhood education for children of all abilities. Headquartered in Northeast Philadelphia, SPIN has been named a Top Workplace for eight consecutive years by Philly.com. SPIN has also been named an Autism Center for Excellence by Community Behavioral Health. For more information, visit www.spininc.org or www.facebook.com/SPINInc
Media Contacts:
Rebekah Glick, PAR
(717) 236-2374, Ext. 509
Adam Hymans, SPIN
215-796-7759 (m)