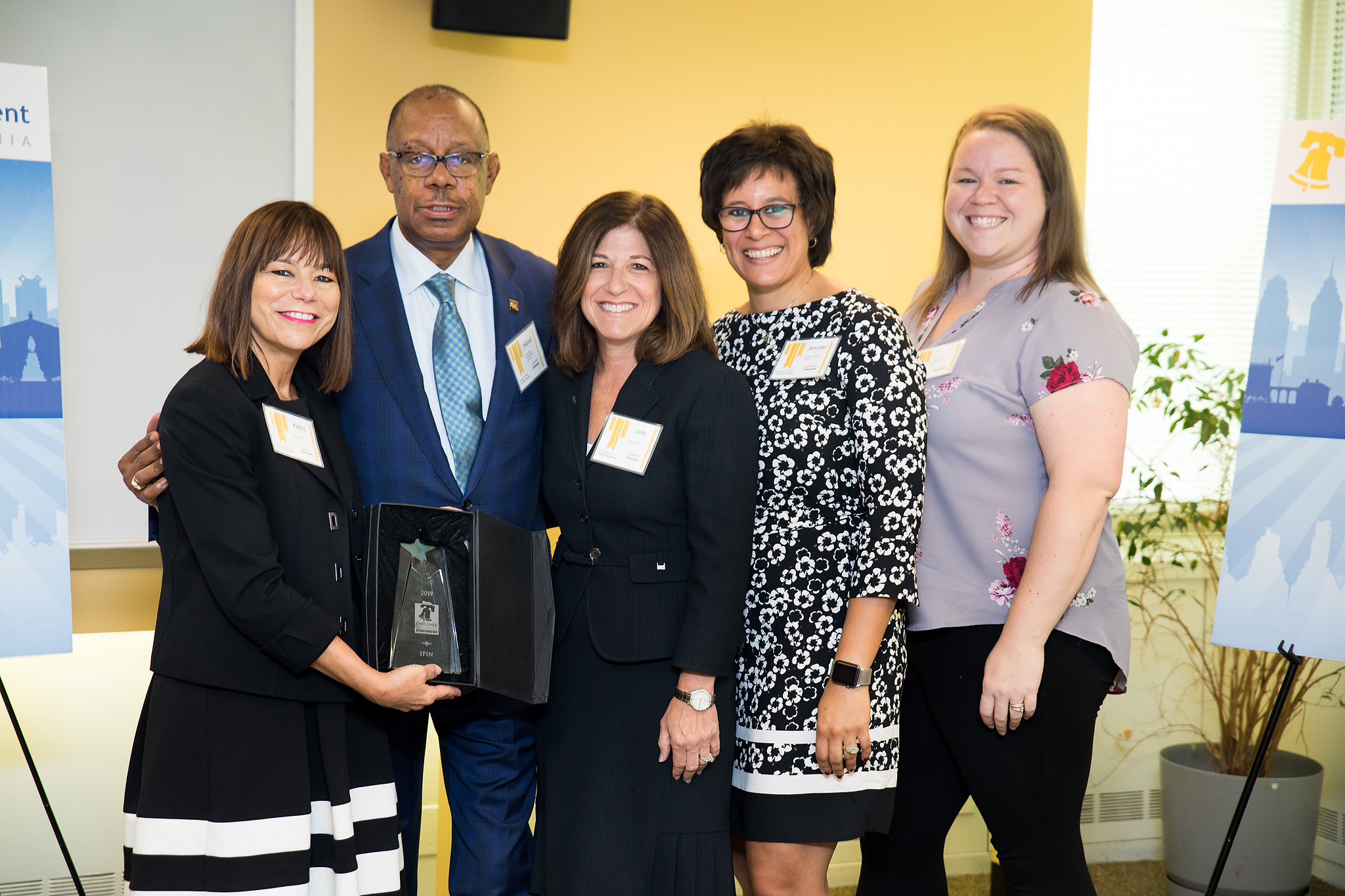 SPIN Honored by City of Philadelphia as Recipient of Employer of Choice Award
Photo Credit: Chris Kendig
Philadelphia's Department of Commerce and Office of Workforce Development Names Leading Service Provider as One of Thirteen Employers to Receive Honor
PHILADELPHIA (October 18, 2019) – SPIN has been named a recipient of the City of Philadelphia's Employer of Choice Award. At a Leaders Breakfast held at Temple University Center City on October 2, 2019, Philadelphia's Department of Commerce and Office of Workforce Development honored SPIN as one of thirteen employers to receive the prestigious honor. A regional non-profit offering supports for children and adults with autism and disability as well as early childhood education programs, SPIN was acknowledged for its commitment to a positive engagement culture that supports and invests in its employees to advance their careers.
"SPIN is a people-first organization that is focused on creating a life of possibilities for our employees and people we support," said Kathy McHale, president & CEO of SPIN. "We have worked hard to create a welcoming environment where all are supported and belong. With our apprenticeship program, tuition supports, development and training practices and commitment to offering wages beyond what is funded by the state, we want our employees to know that they are appreciated and valued. We are so honored to be named among the city's leaders in workforce development and congratulate all of those who have been named with this prestigious award."
To select the honorees of the award, a cross-sector committee of evaluators reviewed the 2019 Employer of Choice applications. The committee selected the thirteen champions based on scoring thresholds in the following: diverse hiring practices; partnerships with workforce education and training providers; summer WorkReady and year-round internships with youth; and activities providing intentional talent pipeline development and promotional opportunities for entry level employees. SPIN was named an Employer of Choice alongside recipients, including: SEPTA, Temple University Health System, Marshalls Distribution Center, CVS Health, Independence Blue Cross, Rhoads Industries, Comcast NBCUniversal, PECO, Wells Fargo Bank, Philadelphia Gas Works, the School District of Philadelphia, and PTR Baler and Compactor Company.
"Aligned with the recommendations put forth in the citywide workforce strategy, Fueling Philadelphia's Talent Engine, the Employer of Choice campaign recognizes the employer champions who engage in recruitment, retention and promotion practices that drive our shared end goal to close the skills gap and foster growth with equity," said Harold T. Epps, Philadelphia Commerce Director. "While we prepare our residents with the skills employers need, it is just as important to recognize the investment and commitment that employers like SPIN already make and continue to make to Philadelphia's economy and residents."
To honor all of the honorees, the Office of Workforce Development (OWD) Executive Director Sheila Ireland opened the awards ceremony at Temple University Center City. After remarks by Mayor Kenney and Commerce Director Harold T. Epps, OWD Senior Director Heloise Jettison presented an award to each employer champion. SPIN's President & CEO Kathy McHale, Executive Director Judy Dotzman, Corporate Officer for Communications Jennifer Hughes and Director of Human Resources Kristen Montanez were onsite to receive the honor.
View or download photos from the Employer of Choice Awards Ceremony here.
Photo Credit: Chris Kendig
About SPIN:
A regional 501(c)(3) non-profit, SPIN is a leading provider of supports for children and adults with autism, intellectual and developmental disability in Greater Philadelphia and the Lehigh Valley. SPIN also provides high-quality, early childhood education for children of all abilities. Headquartered in Northeast Philadelphia, SPIN has been named a Top Workplace for ten consecutive years by Philly.com. SPIN has also been named an Autism Center for Excellence by Community Behavioral Health. For more information, visit www.spininc.org or www.facebook.com/SPINInc  #LoveHopeGrow
###