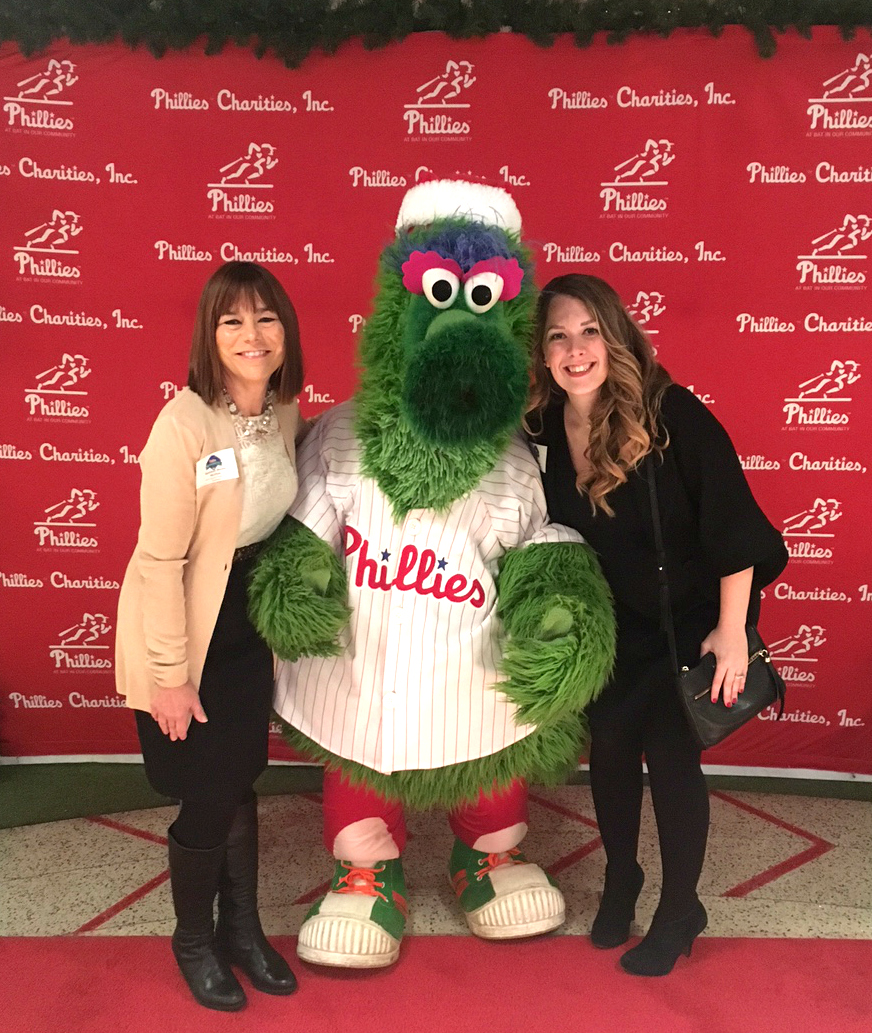 SPIN Honored by Phillies Charities, Inc. with $10,000 Grant
Funds to Create Outdoor STEAM Learning Classroom for Children of All Abilities, Including Autism and Developmental Delay
PHILADELPHIA (December 19, 2017) – SPIN (Special People in Northeast) has been honored by Phillies Charities, Inc. for its efforts in the community and awarded a $10,000 grant to continue its mission to create a life of possibilities for children and adults with autism and intellectual disability. SPIN President and CEO Kathleen Brown McHale attended the Phillies Charities, Inc. Holiday Party on Monday, December 18, 2017 to accept the honor amongst other outstanding organizations that make a difference in the community. The grant awarded to SPIN will be used to create an outdoor STEAM learning classroom designed for children 1 – 5 years old, including children with autism and developmental delays.
"SPIN prides itself in creating an inclusive environment where children of all abilities interact, learn with each other and belong, and an important place to establish this is outside on the playground," said Brown McHale. "We are so grateful to Phillies Charities for their generous support and help to create a place where people of all abilities are welcome."
A 501(c)(3)non-profit founded in 1970, SPIN provides high-quality people first services to children and adults with autism, intellectual and developmental disability. It also provides early childhood education and childcare for children of all abilities. The grant generously provided by Phillies Charities will be utilized to enhance an outdoor area located at one of SPIN's three Children Services Buildings in the Greater Philadelphia area.
To be opened spring 2018, the outdoor classroom will be created at SPIN's Early Childhood Center on Drummond Road, a Keystone Star 4 facility with 16 classrooms that supports over 190 toddlers and preschoolers. Of its preschoolers, 78 are children with autism or developmental disability. The new classroom will be placed in an underutilized space next to SPIN's playpark to inspire learning, exploration, discovery and creativity. New learning tools will be purchased to teach science concepts, sequence skills, spatial reasoning, and mathematics, and will help prepare children for reading and writing, language and social skills. The new area will be equipped with cascading water and sand tables; an outdoor kitchen; natural wood materials and blocks; observation tools; and a large outdoor table for lessons and group activities, to name a few.
Photos:
https://www.dropbox.com/sh/blocdcivfn5m1ks/AADF0q6Vu79O0_l5NnyWxZE2a?dl=0
About SPIN:
A 501(c)(3) non-profit, SPIN (Special People in Northeast) is a leading provider of supports for children and adults with autism, intellectual and developmental disability in Greater Philadelphia and the Lehigh Valley. SPIN also provides high-quality, early childhood education for children of all abilities. Headquartered in Northeast Philadelphia, SPIN has been named a Top Workplace for eight consecutive years by Philly.com. SPIN has also been named an Autism Center for Excellence by Community Behavioral Health. For more information, visit www.spininc.org or www.facebook.com/SPINInc  #LoveHopeGrow
Media Contacts:
Adam Hymans, SPIN
215-796-7759
Kaitlyn Haney, SPIN
215-612-7140