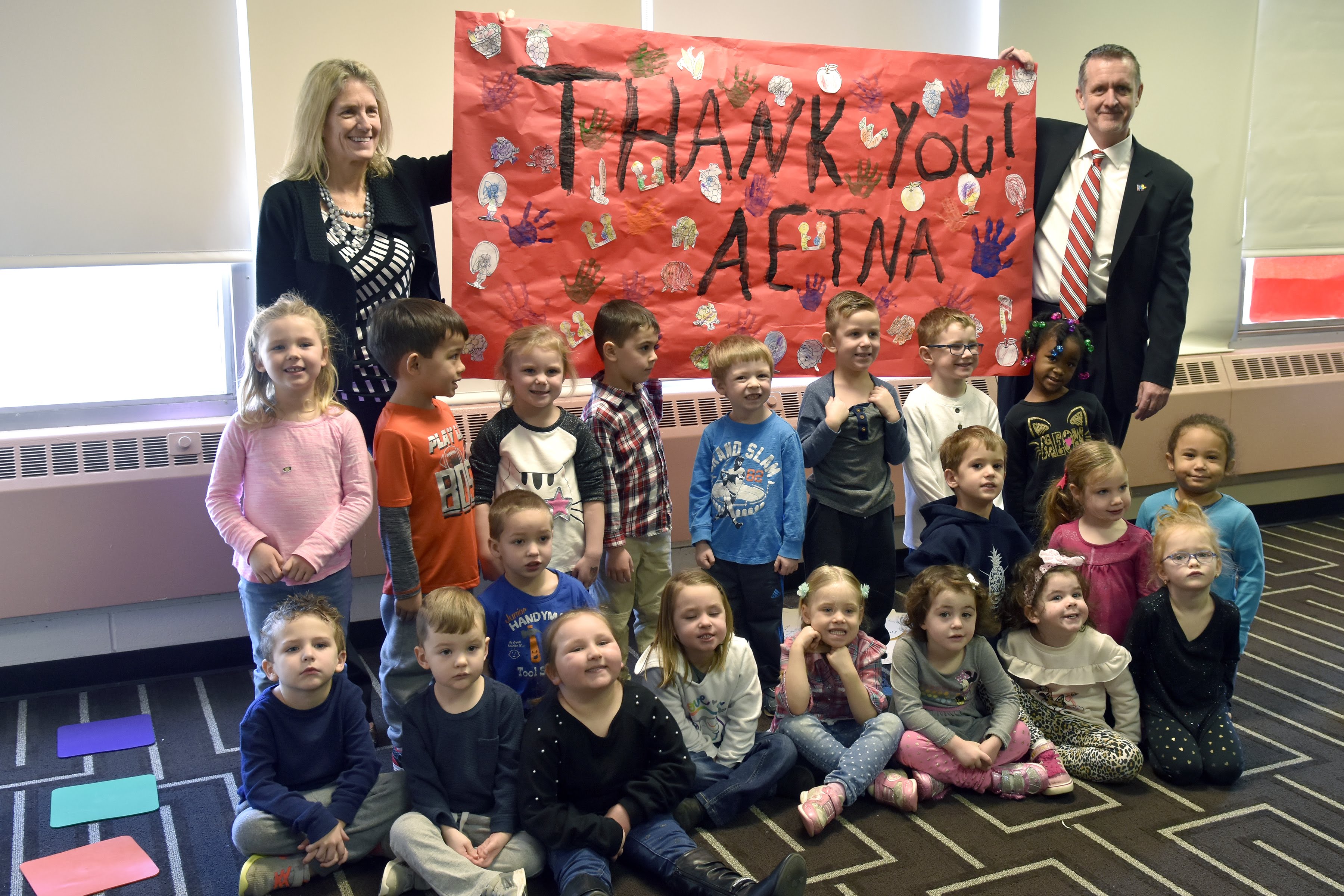 SPIN Preschoolers Celebrate Aetna's $20,000 Voices of Health Donation
Funds to Support SPIN Preschool Programs & Children and Adults with Autism
Philadelphia (January 9, 2019) – SPIN (Special People in Northeast) today celebrated its $20,000 donation from the Aetna Voices of Health voting competition with children ages three to five years old in its early care and education programs at SPIN's Parkwood location. As the children sung songs about health and showcased artwork spotlighting what it means to be healthy, Aetna's Bill Farmer, director of account management, presented SPIN with an oversized check for $20,000. Bill's son, Shayne, who has autism, was there to assist. The donation will be used to support SPIN's early care and education programs, as well as children and adults with autism.
"We are so thankful to Aetna for being such a tremendous partner of not only SPIN, but also all of the non-profits in our community," said Kathy McHale, president and CEO of SPIN. "It is partners like Aetna that make our mission of a 'life of possibilities' a reality. We're also so grateful to our entire SPIN family that voted for us to make this donation possible."
"Aetna is committed to supporting local non-profits and their missions to improve health and well-being in our communities," said Steve Ducos, director of Aetna's Voices of Health program. "We believe that addressing health concerns outside of the doctor's office is crucial to overall health and well-being and look forward to SPIN benefitting from this funding."
SPIN won first place in Aetna's 2018 Voices of Health Competition in the Philadelphia market. The organization was awarded with $20,000 to support SPIN's mission to create a life of possibilities for the 3,500 children and adults it supports.
The Aetna Voices of Health was a voting competition that took place from October 1 through November 9, 2018, and invited 63 nominated non-profit organizations across six states to vie for a $20,000 first place prize and a $10,000 second place prize in their markets. Markets included Philadelphia, Atlanta, Columbus, Houston, Jacksonville, South Florida and four counties in California. SPIN was among 14 total winners that were announced. In total, Aetna awarded $210,000 in grants.
The organizations that were selected to participate in the voting competition promote health by addressing a wide range of community issues. SPIN was one of 10 non-profits selected as finalists for the Voices of Health Philadelphia competition, and received 14,378 votes to secure first place. Each non-profit was asked to submit a one-minute video, and was charged with reaching out for votes in a number of ways, including social media and other communications channels.
###
About SPIN:
A 501(c)(3) non-profit, SPIN (Special People in Northeast) is a leading provider of supports for children and adults with autism, intellectual and developmental disability in Greater Philadelphia and the Lehigh Valley. SPIN also provides high-quality, early care and education for children of all abilities. Headquartered in Northeast Philadelphia, SPIN has been named a Top Workplace for nine consecutive years by Philly.com. SPIN has also been named an Autism Center for Excellence by Community Behavioral Health. For more information, visit www.spininc.org or www.facebook.com/SPINInc
Media Contact:
Kaitlyn Haney, SPIN
Khaney@spininc.org
215.612.7140