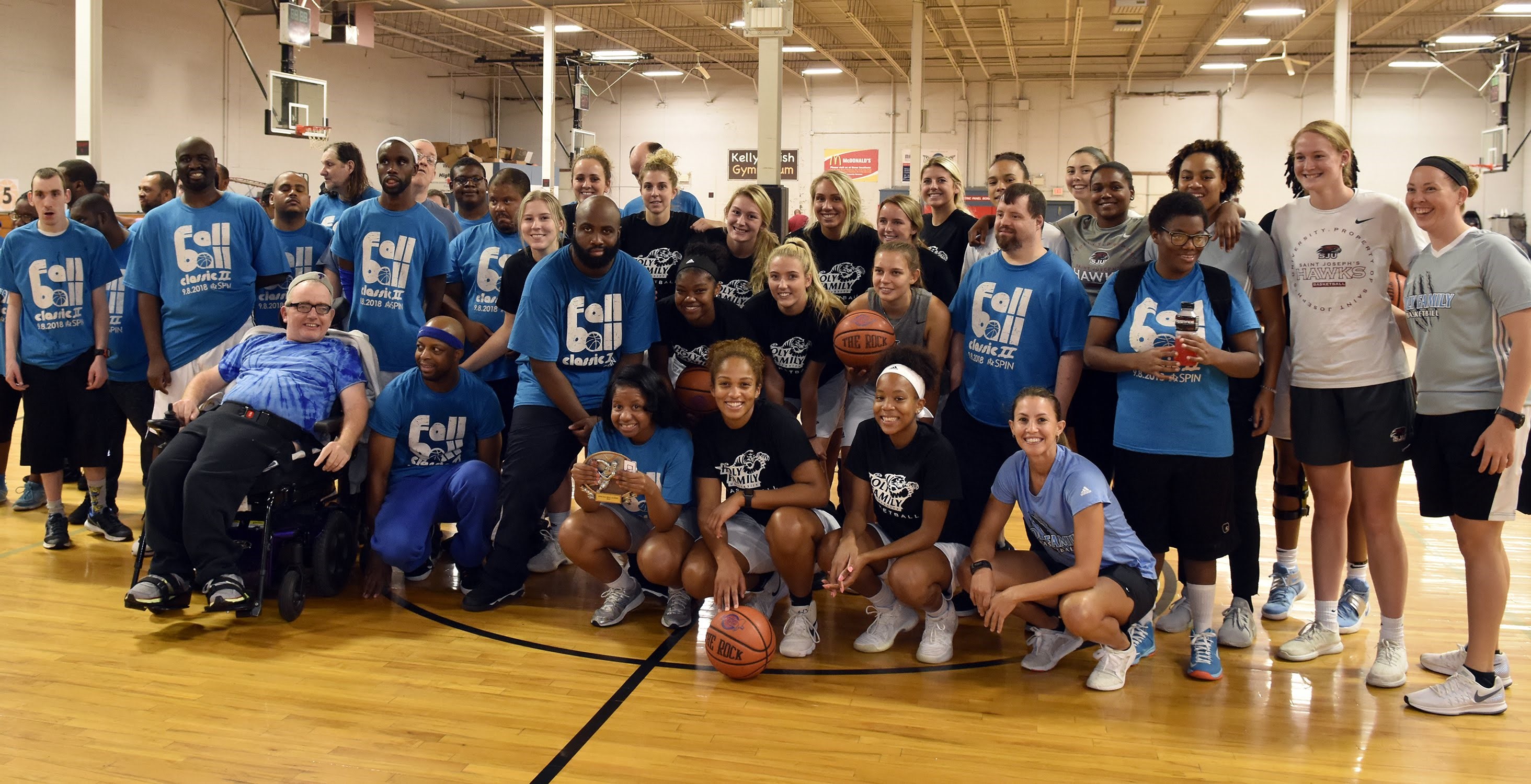 SPIN Teams-Up with Holy Family University and Saint Joseph's University Women's Basketball for Disability Fundraiser
SPIN's Fall Ball Classic, Clinic and Tournament Raises Funds for Adults with Autism and Intellectual Disability
PHILADELPHIA (September 8, 2018) – SPIN (Special People in Northeast) hosted its second annual Fall Ball Classic on Saturday, September 8 to raise funds for adults with autism and intellectual disability. Held at The Renegade's Kelly Bolish Gymnasium, the Holy Family University and Saint Joseph's University Women's Basketball Teams worked hands-on with adults with disability to better their basketball skills. Following the clinic, 14 teams from the community played in a 3-on-3 tournament, raising over $5,000 for adults supported by SPIN.
"The adults with disability that we support look forward to this event all year long," said Frank Brown, corporate officer of SPIN's Residential Services division. "It's awesome to see people of all ages and abilities come together on the court and just have fun. We are so thankful to have great partners in our community like the Women's Basketball teams at Holy Family University and Saint Joseph's University, The Renegades, and our 3-on-3 tournament teams. Its supporters like these in our community that help make this day spectacular."
Event proceeds will benefit more than 200 adults who receive round-the-clock support at SPIN homes in the community. Direct support professionals (DSPs)— employees who provide this critical care— helped to organize the Fall Ball Classic and recruit tournament players. The Fall Ball Classic was the official kick-off to DSP Appreciation Week at SPIN, which was celebrated September 9 – 15, 2018.
Event Photos: https://photos.app.goo.gl/BSkffCHp5fL6MuTf7​
###
About SPIN:
A local 501(c)(3) non-profit, SPIN (Special People in Northeast) is a leading provider of supports for children and adults with autism, intellectual and developmental disability in Greater Philadelphia and the Lehigh Valley. SPIN also provides high-quality, early childhood education for children of all abilities. Headquartered in Northeast Philadelphia, SPIN has been named a Top Workplace for nine consecutive years by Philly.com. SPIN has also been named an Autism Center for Excellence by Community Behavioral Health. For more information, visit www.spininc.org or www.facebook.com/SPINInc #LoveHopeGrow
Media Contact:
Kaitlyn Haney, SPIN
215-612-7140