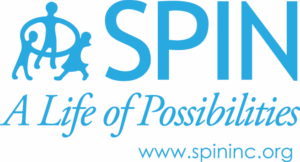 Update to SPIN Community
March 24, 2020
Dear SPIN Community,
Because SPIN has carefully and closely followed all instructions from our government partners on closing services that are not deemed to be "life-sustaining", all programs, with the exception of Residential have been closed since March 16. I am so pleased and proud to tell you that our Direct Support Professionals have performed exceptionally and are providing People-First services to every person in SPIN residential homes. All of our support and operational teams are doing what they need to do to keep everything going and thanks to an incredible residential management team every SPIN home is fully stocked with food, necessary medication and all essential supplies.
These are very challenging and stressful times and it is at times like these we learn who we truly are. SPIN's culture has truly deepened in the past years and we demonstrate consistently that everyone is valued and everyone is important. We have built a team that is committed to and proud of SPIN's mission of a life of possibilities. Our team cares deeply about the people we support, their families and one another. They are showing us all who they truly are – they are caring professionals.
We will get through this together and be stronger for it. As I write this message, we already have provided some services remotely and are preparing to provide more services remotely to the children and adults who are not in SPIN's residential services. None of SPIN's staff have been laid off and all received a full pay check on 3/20 and will receive a full pay check on 4/3. We are planning ahead, but also taking much of this day by day as we stay tuned in to what we need to do to deliver excellent services and supports, safely each and every day.
As always, I thank you for your trust and confidence in SPIN. It is my sincerest hope that everyone in our SPIN community is healthy and well through this crisis and feels supported by us and one another. Take care all.
Sincerely,
Kathy McHale
President & CEO