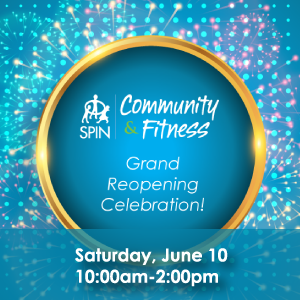 SPIN Community & Fitness Grand Reopening and Member Appreciation Event
Join us as we celebrate the grand reopening of SPIN's newly renovated, fully-equipped fitness center, SPIN Community & Fitness!  SPIN Community & Fitness is a gathering place for family, fitness, and fun. Welcoming children and adults of all abilities, the center embraces SPIN's mission to provide a Life of Possibilities by offering physical, recreational, arts and educational activities to shape healthy and meaningful lifestyles.
Saturday, June 10
10:00am – 2:00pm
SPIN Community & Fitness (formerly Norcom Community Center)
10980 Norcom Road
Philadelphia, PA 19154
This open house celebration and member appreciation event includes:
Mini classes (spinning, bootcamp interval training, core training, yoga, and pilates)
Giveaways
Demos
Tours
Personal Trainer Meet & Greets
New Member Incentives
This event is free and open to the public!
Explore online at  www.spincomfit.org or www.facebook.com/SPINComFit
Questions? Call 215-613-1070 or email SCF@spininc.org