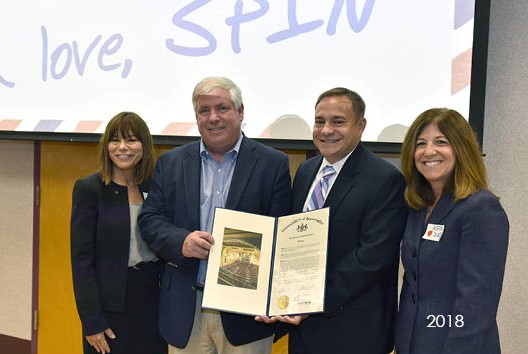 SPIN Awarded grant for Construction of New Early Childhood Center
PHILADELPHIA (1/5/2021) SPIN is thrilled to announce it has received an $840,000 Pennsylvania Redevelopment Capital Assistance Grant (RCAP) to renovate the building the organization owns at 10541 Drummond Road to become its second early childhood center on its four-building campus on Drummond Road. This is currently the location of SPIN's Autism Center for Excellence which is moving two doors down to renovated space in the corporation's headquarters at 10501 Drummond Road. SPIN will close its six classroom early childhood center in leased space on the grounds of St. Anselm's Church and school on Dunks Ferry Road at the end of the 2020-21 school year.
Since 1970, SPIN, a nonprofit Human Service Organization, has been known for high quality programs for children and adults with and without disability. SPIN currently serves 3,500 children and adults throughout Philadelphia, the surrounding counties and in the Lehigh Valley. The 10541 Drummond Road location will serve the community with free, safe, high quality PreK and Early Intervention programs for 160 eligible children aged 3 to 5. There will also be fee-based before and after school programs available for this age group. These programs support working families in our community and assure children are well-prepared for kindergarten and first grade.
The grant was sponsored by Senator John Sabatina, Jr. and Representative Michael Driscoll who have both long supported SPIN's services. "I advocated for this funding because SPIN is such an important organization in our community," Sabatina said. "This project enables them to expand their mission and help some of our family, friends and neighbors who truly need it."
Rep. Michael Driscoll said, " In supporting the continued success of SPIN, I know the grant will be put to good use and will be a real value, as SPIN always serves a Life of Possibilities for People with Autism and Intellectual Disabilities, and remains an essential resource for NE Philadelphia."
Kathy McHale, SPIN's CEO, noted that, "It is especially gratifying that SPIN received this grant in our 50th Anniversary year and in a year that we have experienced great struggles due to the pandemic. As businesses re-open, parents of young children know how important it is to have high quality early childhood education programs for their young children. SPIN is so proud and privileged to be able to partner with families to provide safe, healthy, developmentally appropriate programs free of charge to young families in Northeast Philadelphia."
Construction is slated to begin by March 2021 with a program opening in September 2021. The building will include eight large classrooms, a large Gross Motor/Movement Room and a state of the art outdoor play space. Interested families with children who will be three through five years old as of September 2021, may begin registering their children after the New Year by calling 1-800-SPIN CAN.
More About SPIN:
SPIN was founded in 1970, by a small, passionate group of families who sought a summer camp experience for their children with disabilities in Philadelphia, Pennsylvania. While intended for children with disabilities, SPIN's first camp in 1971 also provided a fun, learning experience for children without disabilities. Through the success of its inclusive camp program, SPIN has grown by responding to meet the service needs for people and their families for an everyday life in their community.
Today, SPIN is a provider of high quality lifespan community services for people with intellectual disability and autism and a major provider of early childhood education for young children. SPIN thrives by advancing its mission through a dedicated team of professionals who support over 3,500 children and adults across the lifespan throughout Philadelphia, Bucks and Montgomery Counties and in the Lehigh Valley to live a life of possibilities at home, in school, at work, and in the community.
Media Contact:
Jennifer Hughes
Phone:215-327-5457
Email:jhughes@spininc.org